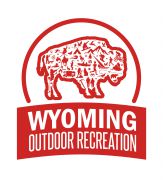 Wyoming Outdoor Recreation's Outdoor Recreation Collaboratives Met in March
In early March, three of Wyoming Outdoor Recreation's seven Collaboratives met for their bi-monthly meetings.
Convened throughout the state by Wyoming State Parks, Historic Sites, and Trails, these initiatives bring together local community members, recreation stakeholders, businesses, conservation groups, federal and state agencies, and elected officials to identify and prioritize opportunities for the growth and enhancement of outdoor recreation.
On March 7th, members of the Wind River Outdoor Recreation Collaborative (WRORC) met in Lander, Wyoming. Members enjoyed a presentation from students at the University of Wyoming on their work to designate Lander and Dubois as Gateway Communities to the Continental Divide Trail.
Members also listened to a presentation from Joe Ellis at South Pass City Historic Site. Discussion then focused on new and on-going projects in the area. WRORC represents communities that lie within Fremont County.
During the Sweetwater County Outdoor Recreation Collaborative (SCORC) member meeting held on March 8th in Rock Springs, Wyoming, members engaged in presentations from the Bureau of Land Management- High Desert District Office and John Freeman with the Green Belt Task Force. Members discussed several projects including how to assist the Sweetwater Trails Alliance with signage, Flaming Gorge opportunities, Red Desert opportunities, and the Killdeer Diversion Dam. SCORC represents communities that lie within Sweetwater County.
The Great Divide Outdoor Recreation Collaborative (GDORC) met on March 10th in Laramie, Wyoming to discuss the group's structure as well as what projects are currently going on in the area. Members also created a list of topics and projects to discuss at future meetings. GDORC represents communities that lie within Laramie, Albany, and Carbon counties.
Meeting dates, times and locations for upcoming collaboratives meetings are announced two weeks prior. Members of the public are welcome to attend collaborative meetings in-person or virtually, and there is a designated time for public comment near the end of each meeting.
Established by recommendation of the 2017 Governor's Outdoor Recreation Task force, the Office of Outdoor Recreation aims to diversify Wyoming's economy by expanding, enhancing, and promoting responsible recreational opportunities through collaboration, outreach, and coordination with stakeholders, landowners, private industry, and public officials.
Learn more about the Office and future community collaboratives by following us on social media or visiting www.wyorec.com.