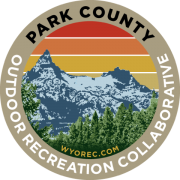 The Park County Outdoor Recreation Collaborative represents Park County. PCORC is in its early stages, and recently assembled it's steering committee. Park County experiences high rates of visitation with diverse recreation opportunities, making it an ideal location for outdoor recreation collaboration. More information about PCORC will be available soon.
View Collaborative Charters, Past Meeting Materials and More Here
(link opens in new tab/window)
---
Collaborative Steering Committee Members:
Rebekah Burns, Powell Economic Partnership/Powell Chamber & Visitor Center
John Wetzel, Mayor of Powell
Christi Greaham, Northwest College CTD
Wes Allen, Sunlight Sports
John Gallagher, Park County Pedalers
Brenda Miller, WY State Snowmobile Association
Brooks Jordan, Wyoming State Parks
---
For more information about Park County Outdoor Recreation Collaborative, please contact Amy Crawford at 307-777-6925; amy.crawford@wyo.gov or Sherry Joslyn at 307-777-7465; sherry.joslyn@wyo.gov.
---