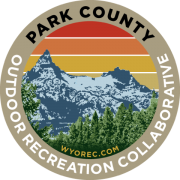 Park County, Wyoming has Unrivaled Beauty and Abundant Outdoor Recreation Opportunities
Nestled in the heart of the Rocky Mountains, this region boasts breathtaking landscapes, diverse wildlife, and many recreational opportunities. Whether you're an avid hiker, fishing enthusiast, wildlife photographer or off-roading on ATV trails, the Park County Outdoor Recreation Collaborative (PCORC) wants to create outdoor recreation experiences for residents, visitors, and businesses to enjoy.
PCORC is a grassroots group of community volunteers, supported by Wyoming's Office of Outdoor Recreation, that aims to explore and identify ways to promote sustainable outdoor recreation, develop new recreational opportunities, and provide recommendations to maintain and enhance existing outdoor recreation in Park County through collaboration with private landowners, and federal, state, and local land managers.
In Park County, we know that building a sustainable outdoor recreation industry not only enhances our local and state economies, but it also improves the health and quality of life of our residents. Our work also promotes conservation and stewardship for generations to come. We are proud of the work our volunteers do and invite whoever wants to join our efforts to contact a steering committee member and/or state representative.
View Collaborative Charters, Past Meeting Materials and More Here
(link opens in new tab/window)
---
Collaborative Steering Committee Members:
Rebekah Burns, Powell Economic Partnership/Powell Chamber & Visitor Center
John Wetzel, Mayor of Powell
Christi Greaham, Northwest College CTD
John Gallagher, Park County Pedalers
Brenda Miller, WY State Snowmobile Association
---
For more information about Park County Outdoor Recreation Collaborative, please contact Amy Crawford at 307-777-6925; amy.crawford@wyo.gov or Sherry Joslyn at 307-777-7465; sherry.joslyn@wyo.gov.
---