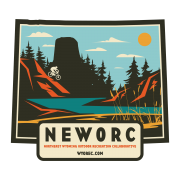 The Northeast Wyoming Outdoor Recreation Collaborative represents communities within Campbell, Crook, and Weston counties. NEWORC is in its early stages, and will soon assemble its steering committee. More information about NEWORC will be available soon.
View Collaborative Charters, Past Meeting Materials and More Here
(link opens in new tab/window)
---
Collaborative Steering Committee Members:
Sharie Shada, Wyoming State Parks
Clay Cundy, Campbell Co Parks
Jeanne Whalen, Crook County
Dan Barks, Campbell County
Caleb Carter, Weston County Natural Resource District
Wade Henderson, Wyoming State Parks
---
For more information about Northeast Wyoming Outdoor Recreation Collaborative, please contact Amy Crawford at 307-777-6925; amy.crawford@wyo.gov or Sherry Joslyn at 307-777-7465; sherry.joslyn@wyo.gov.
---