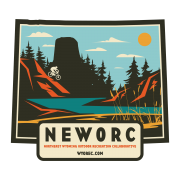 The Northeast Wyoming Outdoor Recreation Collaborative represents communities within Campbell, Crook, and Weston counties. NEWORC held its first meeting on June 9, 2021. The Collaborative brings together business owners, land managers, non-profit groups, elected officials, and recreationalists from varied interest groups who have the common goal of repairing and expanding outdoor recreation opportunities. NEWORC has started working on several projects, including expanding the Hideout Trail System as well as improving existing trails and increasing the accessibility of the existing trails at the Flying V Trail system. This will make the trail suitable for adaptive mountain bikes. NEWORC is working to identify outdoor recreation projects that will be valuable to the citizens in local communities as well as bring in revenue from out of state visitors.
View Collaborative Charters, Past Meeting Materials and More Here
(link opens in new tab/window)
---
Collaborative Steering Committee Members:
Sharie Shada, Wyoming State Parks
Clay Cundy, Campbell Co Parks
Jeanne Whalen, Crook County
Dan Barks, Campbell County
Caleb Carter, Weston County Natural Resource District
Wade Henderson, Wyoming State Parks
---
For more information about Northeast Wyoming Outdoor Recreation Collaborative, please contact Amy Crawford at 307-777-6925; amy.crawford@wyo.gov or Sherry Joslyn at 307-777-7465; sherry.joslyn@wyo.gov.
---