About:
On July 1, 2022, Wyoming's Office of Outdoor Recreation announced the launch of the Wyoming Outdoor Recreation Grant Program which will award funding to public outdoor recreation projects throughout the state.
The pre-application opened on June 30 and closed on August 30 receiving 117 pre-applications from local, county, state, and tribal governments, as well as non-profit organizations across the state for a total of $71,239,338 in requested funding, exceeding available funds by over $51 million dollars.
These funds, made available through the American Rescue Plan Act (ARPA) State and Local Fiscal Recovery Funds and the Wyoming Office of Tourism in 2022, will be awarded for projects that focus on the response to COVID-19 impacts, new outdoor recreation infrastructure, and economic impact in local communities.
Various amounts of awards for grants will be offered between $20,000 and $749,000. Pre-applications will be reviewed and scored by an Outdoor Recreation Grant Committee. The grants will be evaluated for: ARPA eligibility of project, economic impact, new outdoor recreation infrastructure, budget and project costs, a funding match, and community support.
The Grant Review Committee will evaluate pre-application packages during the month of October. Applicants will be notified of approval or denial to the Application phase of the grant program by October 30th.
---
Program Contact:
Brynn Hirschman, OREC Coordinator
Phone: 307-701-5011
Email: brynn.hirschman@wyo.gov
---
Important Dates:
Pre-application opens: June 30th, 2022
Pre-application closes: August 30th, 2022 at 11:59 PM
Application closes: November 30th, 2022 at 11:59 PM
Grants awarded: Within 90 days of the application deadline
Grants are awarded within 90 days of the application deadline.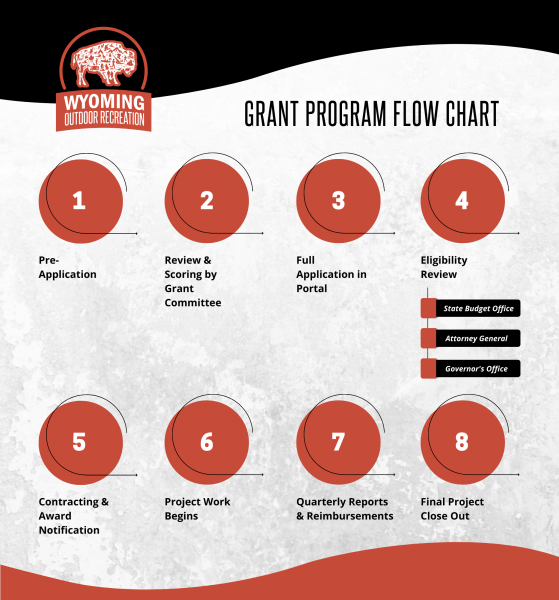 ---
WORG Forms and Resources:
View Frequently Asked Questions for the Wyoming Outdoor Recreation Grant Program >>
(link opens in new tab/window)
---
External Grant Review Committee Members: